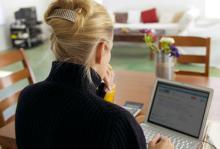 By now online counseling has become an almost exclusive mean of getting to counseling for many people who work 12 hours a day, for mums at home with babies. With the help of online counseling you get the chance to talk to a counsellor via Skype even from you office or home. This counseling media does not substitute face-to face, in person therapy, but online counseling can be of great help in certain cases.
Online counseling is for individuals who
live further away from Budapest,
work abroad or travel frequently or
would have difficulty accessing any counseling office
work 12 hours a day
Advantages of Online Counselling
Convenient - you can talk to a psychologist, counsellor from your location.
Appointment easily made
Confidential - your discretion is assured.
How it works?
Contact me to book a counseling session (or severeal sessions)
Pay for session(s) by PayPal
Call me on Skype at the scheduled time of session.
Fees
Online counseling:  30.000 HUF per 45 minute session
Payable in advance of session by PayPal.
Contact
For further information, or booking, please contact me.
Phone:  + 36 20 438 4402
Email: pszichologia

kisgabipszichologus.hu (pszichologiaatkisgabipszichologusdothu)