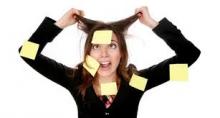 Nowadays employment, workplace and carrier problems are one of the main causes of stress, poor health and damaged relationships. Many people spend a great deal of time at work, many suffer from the pressures and strains deriving from work. Occupational stress affects a large number of people and it has much to do with quick staff turnover, high levels of sickness absence, human error etc. Working hard is necessary in these crisis hit times, but pushing oneself too far can be destructive. Anyone who feels too much stress at work, may benefit from work counselling or psychotherapy.
The signs of work stress can be physical and psychological, like: headache, muscle pain, exhaustion, irritability, mood swings, poor concentration.
Work counselling can be beneficial if you are experiencing any of the above symptoms and/or you have a work related issue like:
High levels of stress
Anger management problems
Job dissatisfaction
Lack of confidence at giving presentations
Loss of motivation
Constant tiredness
Unhealthy work/life balance
We spend over a quarter of our adult life at work, that is why we need to see, how much damage can be done by some work-related issue to our health, to our relationships and to our well-being. Counselling can help through exploring factors of the extensive anxiety and stress (maybe long working hours, too much work, deadlines, unpleasent collegues ect.), by helping you find new or better ways of coping, managing these problems, setting new goals related to your job.
In the case of not knowing which occupation to take up, or for those who would like a career change, for people facing redundancy or retirement problems counseling is a good way to get support and space to talk through all the issues.