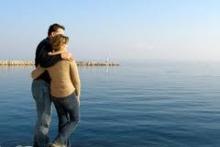 Relationship counseling is for those individuals and couples who are having problems with conflict resolution. They feel they have tried many times to talk things through, but nothing has changed in their relationship. They love each other, but somehow their relationship is not developing anywhere, something is not working quite well. At a certain point they start to think, they either have the option of separating, getting divorced, looking for a "better" partner, relationship, or they just stay and accept the unchangable situation and suffer further. This is however also the time for turning to a psychologist, counselor.  
Sometimes crisis in a close relationship is absolutely a normal reaction on the level of the individual, the couple, the family system, especially at lifechanging events (wedding, baby arriving, illness, children moving away, getting retired, death etc.). But even a moving or work change – not mentioning a financial crisis -  can cause serious problems, hard time in the relationship. It is very important in these situations to put aside pride ("we can solve our problems just fine, we don't need help"), shyness and hopelessness and to turn, either individually or as a couple, to a professional helper, psychologist, counselor or pastor.

Relationship and family therapy
Relationship and family therapy is a special branch of psychotherapy. Its goal is to solve the falmily's psychological problems and to help the family to move further in its development cicle. The psychologist, therapist will examine the family's/couple's patterns of interactions, will work with the couple or the family as it is a system, helping the system's members to better cope with its issues.
There are different kinds of family therapy, but the common thesis is that most of problems can be dealt with by inviting the whole family into therapy.
It is important to know that family and couple therapy can be an option only if the system is still working and the "famous" solution of divorce and separation is not on the way yet, when both parties are willing to make changes, to resolve the painful situation.

Issues for relationship counseling and/or therapy
Arguments & Conflict
Commitment Issues
Jealousy & Anger
Separation & Divorce
Extra-Marital Affairs
Domestic Abuse, violance
Poor Communication
Power Imbalances
Sexual Problems

Pre-marital counseling
In our postmodern time marriage is a big challenge. The majority of young people do not believe in it, in its necessity and beauty. Beside all this, naturally when a young couple has not yet made the decision of getting married or when they have already done that, there are still tons of questions in their heart and mind about the future, their own capabilities, about fidelity, about each other. At this point it is strongly advisable to go in to pre-marital counseling. This special counseling form is well know and has been applied with great success in church settings. It aims to prepaire the couple for their great step into marriage. With the help of a psychologis, counselor it can be very useful to clarify many important questions, misunderstandings, to fix some communication problems and to strengthen the trust. As a result of pre-marital counseling the couple can enter into their common future with joy instead of fear and insecurity. That joy and stability is essential for the big challenge.